Steelers Baby, Infant, and Toddler Stuff
Reebok Pittsburgh Steelers Infant Black Pullover Hoodie Sweatshirt & Pants Set Keep your little one warm with Steelers pride in this hoodie and pants set from Reebok. This team-spirited set features the team name and logo on the front of the hoodie and the team logo on the left pant leg, so your little fan can cheer on Pittsburgh while staying cozy and warm!
Reebok Pittsburgh Steelers Infant Black Classic Full Zip Jacket & Pants Set Train your little Steelers fan to dress like the ultimate NFL star in this matching Classic full zip jacket and pants set from Reebok! The jacket features an embroidered team logo on the left chest and team name embroidered on the back, while the pants boast the same embroidered team logo on the upper left leg. Both pieces include contrast stripes and team-colored piping down the sides for a traditional team-spirited look to get them pumped up and ready for the big game!
Pittsburgh Steelers Baby Mascot Stocking Start your little sports fan off right with our NFL Baby Mascot Stocking! Each stocking feature the official team colors, with a plush baby mascot on the stocking and team logo on the cuff. A great holiday gift idea for the little fan in your family! Measures 22".
Pittsburgh Steelers Baby Bottles - 2 Pack Get your little one started on the road to fandom with this 2-piece baby bottle set from Baby Fanatic. Each one features a silicone nipple, boasts a measuring scale on the side, and is boldly decorated with colorful team graphics.Images shown may differ from the actual product. Team: Pittsburgh Steelers Type: Other Sport: Football Color: Multi
Pittsburgh Steelers NFL Triple Woven Jacquard Throw (Baby Series) (36x46") Pittsburgh Steelers NFL Triple Woven Jacquard Throw (Baby Series) (36x46") This loom woven triple layer tapestry throw blanket is fringed on all 4 sides. This blanket can be used at the game; on a picnic; in the bedroom; or cuddle under it in the den while watching the game. Use it as a room accent; bed covering; throw blanket or wall hanging. They are easy to care for; and are machine washable and dryable. This blanket is made of 100% acrylic. Actual item will vary from image.
Pittsburgh Steelers Baby Gift Set Pittsburgh Steelers Baby Gift Set With the combination of a bib, bottle and pacifier, this set covers all the essential needs of every little fan. The bib is made of 100% cotton, features an embroidered team logo, a velcro closure for easy use and is machine washable. The 9 ounce bottle is decorated with the team logo and colors, features a silicone nipple and has the measuring scale on the back. The pacifier features the team logo and colors, has a soft, clear and durable silicone nipple, and its orthodontic design encourages healthy oral development. The bottle and pacifier are BPA and phthalate free. Product enhancements by the product manufacturer may result in the item(s) being slightly different than they appear in the images posted.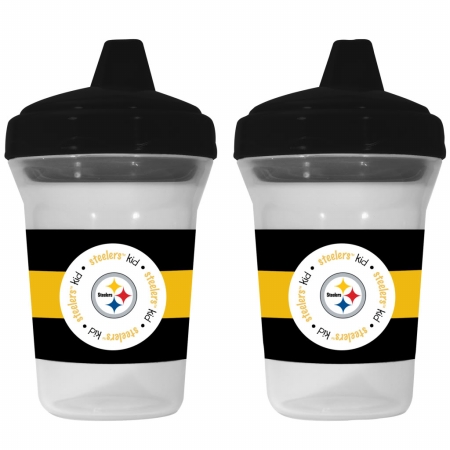 Baby Fanatic 143390 Pittsburgh Steelers Sippy Cups 2pack Keep your baby satisfied with this Alabama Crimson Tide officially licensed Sippy Cup 2Pack. Each 5 oz. sippy cup is spillproof dishwasher safe and decorated with team graphics and colors. The cups are tested for safety and durability and are BPA and Phthalate Free. Each cups comes with a valve in the lid to prevent spills and leaks.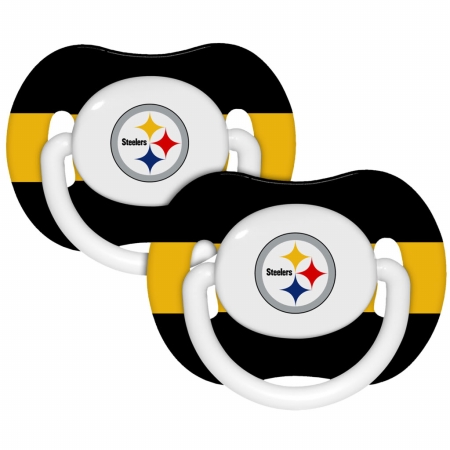 Baby Fanatic 143347 Pittsburgh Steelers Pacifiers 2pack Soothe your baby with this Auburn Tigers officially licensed 2pack pacifiers. These orthodontic pacifiers feature a silicone nipple with a plastic shield and grasping hook. The team logo is adorned on the button with team colors decorating the shield. All items have been quality and safety tested to be 100 BPA and Phthalate free.
Reebok Pittsburgh Steelers Infant Gold-Black Creeper, Bib & Bootie Set Make mealtime memorable for your little Steelers baby with this creeper set by Reebok! The set includes a team-colored bib with a team logo and contrasting stripe, a creeper with a team name and logo and contrast stitching and a pair of team-colored booties that complete this adorable team-spirited look.
Pittsburgh Steelers 3-Piece Baby Gift Set Keep your little Pittsburgh fan clean and team-spirited with this 3-piece baby gift set! It includes a team logo pacifier, a 9oz. team logo bottle, and an adorable bib featuring an embroidered team logo surrounded by "Steelers Baby" lettering.
Gerber Pittsburgh Steelers Infant Girls Pink Flower Power 2-Pack Creeper Set Your baby will have more than one fabulously pink outfit to wear when you cheer on the Steelers with this 2-pack creeper set from Gerber. The long sleeve creeper features ruffles at the cuffs, a distressed print and embroidered detail along the collar and shoulder lap, while the short sleeve creeper features the same design on the collar, a different distressed print and contrast ribbing. Either option will keep your little cutie sittin' pretty in adorable Pittsburgh style!
Gerber Pittsburgh Steelers Infant Black-Gold Sleep 'n Play Sleeper There's nothing more inspiring than the passion and enthusiasm of a young fan, so make sure your little one is on their way to becoming the brightest Steelers fan in this Sleep 'n Play baby sleeper from Gerber. It features a printed team logo on the left chest accented by a variety of distressed football terms, a team logo patch sewn on the left sleeve and distressed stripes on the sleeves for a team-spirited look that'll have the competition wishing they had such a dedicated fan on their side!
Pittsburgh Steelers Women's Logo Premier Too Maternity T-Shirt/Infant Set It took nine rewarding- but sometimes difficult months. Fortunately- you dressed in this comfortable- fun Pittsburgh Steelers Womens Logo Premier Too Maternity T-Shirt/Infant Set and time flew. And now's your chance to shape their future the right way - as a Steelers fan! Features screenprinted team logo on front with holographic clear glitter. Set includes Creeper with fold over neck and snap closure as well as bib with easy-adjust closure Creeper and bib feature team graphics for an early start to fanhood Easy to care 100% garment washed cotton for extra softness Officially licensed by the NFL
Gerber Pittsburgh Steelers Infant 5-Piece Beanies & Booties Set Switch up your tiny fan's cold-weather style with this adorable set of baby team-spirited beanies and booties from Gerber! The two team-colored beanies feature an embroidered team name or logo on the front of the cuff, while the gray beanie boasts embroidered "Big Steelers Fan!" lettering across the front of the cuff. Each pair of cuffed booties features a printed team logo on the top to complete the set, making for a fun and versatile way to keep your little Pittsburgh fan's noggin and toesies warm while getting them started on the right track to a life of fandom!